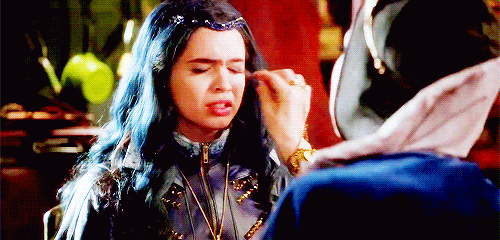 ~ Only the best are the fairest of them all~
Full Name: Evie Miriam Queen 
Nickname: Blueberry Princess, Ev, or E
Birthdate:  October 31, 1999
Age: 16
Grade:  Juinor
Hometown: Isle of the Lost
Current Home: Auradon Prep
Gender:  Female
Sexual Alignment:  Heterosexual
Alliance:  Legends ( currently )
Face Claim: Sofia Carson
Hair Style: Long and Wavy
Hair Color: Dark Blue
Eye Color: Brown
Unique Features: She tends to wear makeup.
Clothing Style:  Evie wears mostly blue and black clothing. Her usual outfit is a heart-shaped ruby necklace, a dark blue cape paired with a printed leather skirt with spiderweb leggings and black combat boots.
One Or More Paragraphs:
Evie is a girl who is smart, flirty, and very kind in the long run. Unlike most of the villain kids, she is very pleasant, to the point that she was able to make the most sour villains smile with her laughter on her sixth birthday party. But don't let her charm fool you, Evie is loyal and authoritative when she wants to be. Due to her mother's insistence that being beautiful is all that matters, Evie has problems with her own vanity and is sensitive to how others view her; her biggest fear was her not ending up being the fairest of all. While she wishes to find a perfect prince for herself, she is not foolish to fall for a prince who looks nice but has an ugly personality, as she rejected Chad Charming when she found out how arrogant he is. She is quite intelligent, especially in chemistry.
Father's Name: Unknown
Age: Unknown
Occupation: Unknown
Status:  Unknown
Mother's Name:
Evil Queen
Age:
56
Occupation:
Being the Evil Queen
Status:
 Living
Sibling's Name:
Roderick Victor Queen
Age:
24
Grade or Occupation:  
Con Artist
Status:
 Living
Sibling's Name:
Ebony Spider Queen
Age:
21
Grade or Occupation:
Her mother's henchmen
Status:
 Living
Sibling's Name:
Slate Thantos Queen
Age:
17
Grade or Occupation:
Auradon Prep Senior
Status:
 Living
Half-Sibling's Name:  
Raven Drusilla Queen
Age:
15
Grade or Occupation:
Auradon Prep Sophomore
Status:
 Living
General History: 
Growing up on the Isle of the Lost for Evie was good in her mind, since her and mother had got along quite well with each other, despite her mother often treating her siblings much better. But that did not mean her mother did not love her. Since she often tried to spend as much time as she could with her mother. Although Evie liked to spend time causing mischief which was something her mother encouraged. Although out of all her siblings she treated Ebony the best, leading her to often show her beauty tips to her and often not acknowledging the others doing.
Evie although had not made friends for a while. Meaning her best friend she was at first an enemy with. Even though when her friend nearly saved her life. She often grew a friendship with her, and that was Mal. Aside from that Evie often spent her time on her beauty and when she was younger she was known to make everyone smile. Leading her to often be praised by her mother which has grown more once she was older.
Once Evie was told she was going to Auradon Prep she was happy, since that meant maybe she could make friends. Even though her mother gave her a task. Which did not go according to plan. Leaving Evie to become more of a better person and has no desire to be her mother's daughter and wants to be good. 
Family History:
Not much is known about Evie's family only that each of siblings have different fathers except Evie and Slate, who have the same father but never met him. Although growing up with all of them she has more grown to all consider them her siblings. Their mother although has taught all of them the ways of how she works. Leading most of the siblings to be mini her's and some who are nothing like that.
Even though once Evie left her mother has grown more focus to the older siblings. Due to the fact ever since they were younger had always displayed their mother's desires. Leaving the remaining siblings to navigate their way. Even though Slate has grown to more support there mother.